following my struggle with https://forum.ubiquityrobotics.com/t/move-basic-tutorial-is-my-map-ok
I did measure 8 fiducials out of the 70~80 units already printed and taped on ceiling. with a caliper.
I observe inconsistant values instead of the expected 140 x 140mm.
(however, with my ladder + bending my back in akward position => it's likely the measures contain error too)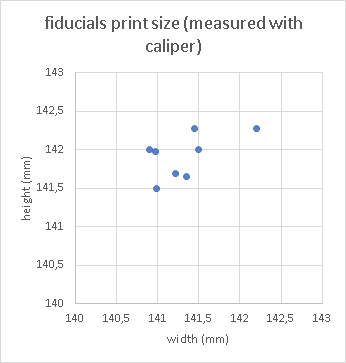 on average, they're slighly higher (141.9 mm) than large (141.3 mm).
overall, they're on average 141.6mm with 0.45 standard deviation.
Such inconsistancy may explain the difference in height and/or orientation i can see on the rviz map. dunno.
So well, I'm gonna use a plotter that notorioulsy makes 1:1 drawings (but we never actually measured its precision). Given the trouble i've been through, it's likely i'll have a professional printer to print them on adhesive paper / pvc / whatever.
Since this is just ordering a machined part, the question then becomes: what tolerance should I demand the print shop to match? (0.1mm feels fine. but i thought i should ask here)