Following @davecrawley advise to calibrate the camera, I tried to calibrate the camera.
my questions:
1. is the process ok overall ? did i miss anything? is using 0.050 as square size ok here? (i never did it before).
2. is the checkboard quality/size acceptable or should i order a pro print? (assuming I order a pro print on foam core, what size should it be? why?)
3. where am I supposed to save the calibration data?
4. how do i make sure my custome calibration data is used by the slam process instead of default values?
details follow
---
I printed the 8x6 chessboard on paper with my HP DesignJet 1050C. I did not get the parameters right at first because it did not print on the whole A0 paper roll.
447mm x 348 mmm (from the extremities of extreme squares)
Then i tired again in landscape using A0 format, but i had to enable autoresize otherwise the last squares would be cut).
Anyway, it the A0 format i ended up with approximately 97 cm x 75cm size (the measurement is not precise because i had to use a tape measure). Anyway in this size my available coardboard sheet wasn't really flat (slightly bended). So i just dropped the big format in favor of the 447x348mm
Then i taped this chessboard on 3mm mdf wood sheet that seems flat/straight enough. I used a spay glue.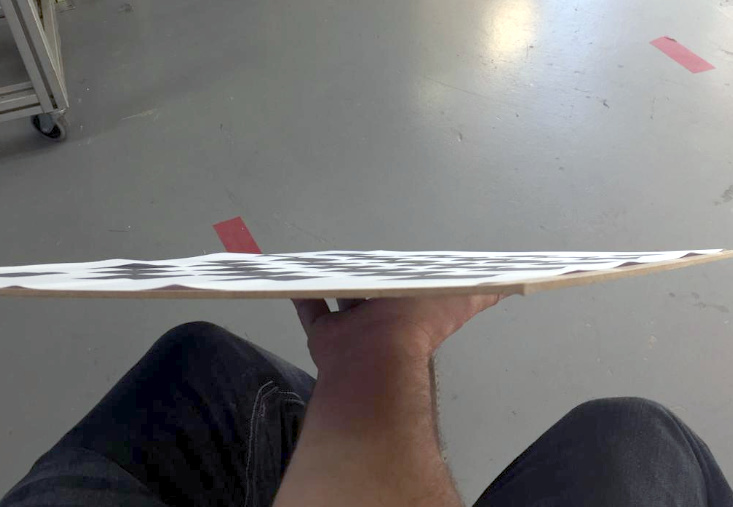 With my caliper i measured a square size of ~50mm (same in both side, it is indeed a square. at least that printer prints correctly). The black density isn't great, maybe there are ink parameters to tune. i dunno.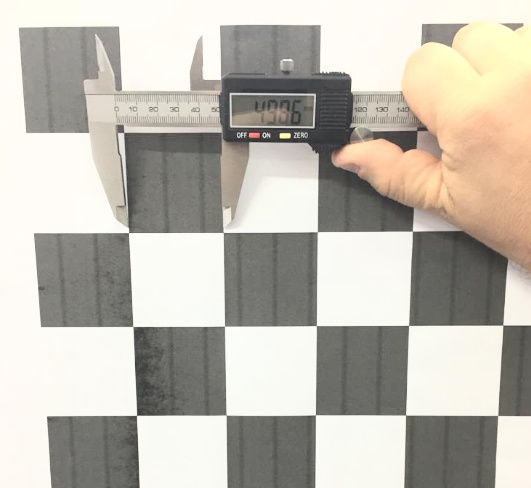 For the rest, I forgot the laptop and did everything with a magni on a table with a desktop screen, a usb keyboard and mouse connected to the raspberry pi.
Then i basically kill all ros processed. followed the step in raspicam mode to build the node.
Then I started in different lxterminal windows:
roslaunch raspicam_node camerav2_1280x960.launch
there was a warning in the output… maybe all our problems come for the fact that the default camera calibration is not used?
[ WARN] [1538035667.663882307]: Camera calibration file /home/ubuntu/.ros/camera_info/camerav2_1280x960.yaml not found.
rosrun image_transport republish compressed /image raw out:=/raspicam_node/image
I tried to start rqt_image_view => everything was fine. i could the video feed. i closed it.
then i started
rosrun camera_calibration cameracalibrator.py --size 8x6 --square 0.050 image:=/raspicam_node/image camera:=/raspicam_node
is using 50mm as square value ok?
==> in the magni documentation there is --size 8x6 --square 0.74
==> in the ros documentation there is --size 8x6 --square 0.108 and looking at the guy's hand 10cm makes sense. whereas magni documentation uses 70cm per square and it would result in a gigantic 7~8m long carpet that is plain impossible to hold/maneuver/print. (is there a typo in magni documentation?)
I did end up with the following GUI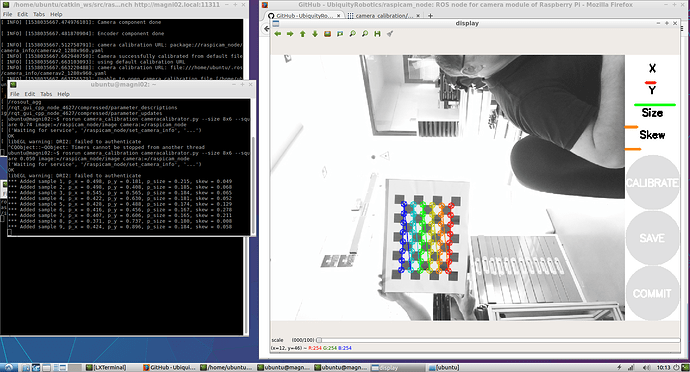 I tried to move around the checkboard as the ros documentation suggests. Some news lines appeared in the output indeed.
After a while the X/Y/Skew bars became full and green. The Size bar did became green but only half full.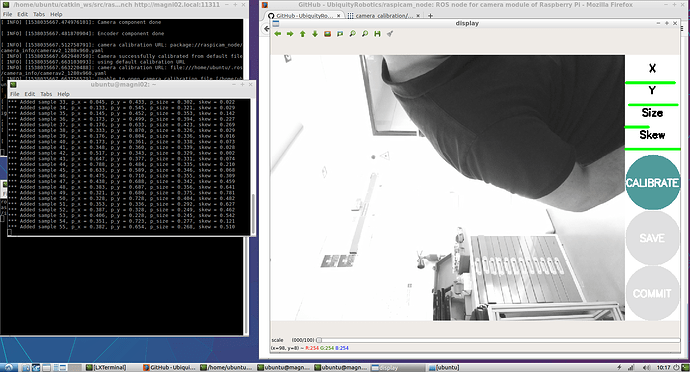 I then hit the green "calibrate button". The GUI become unresponsive and i thought it was frozen. I went for a coffe and when i was back there was new lines in the output. The documentation suggested to hit the "commit" button. Which i did, but it triggered an exception in the output and a segmentation fault.
It looks like I should copy/paste the output somewhere. Where?
how do i make sure this calibration data is later used in the slam process?
thanks